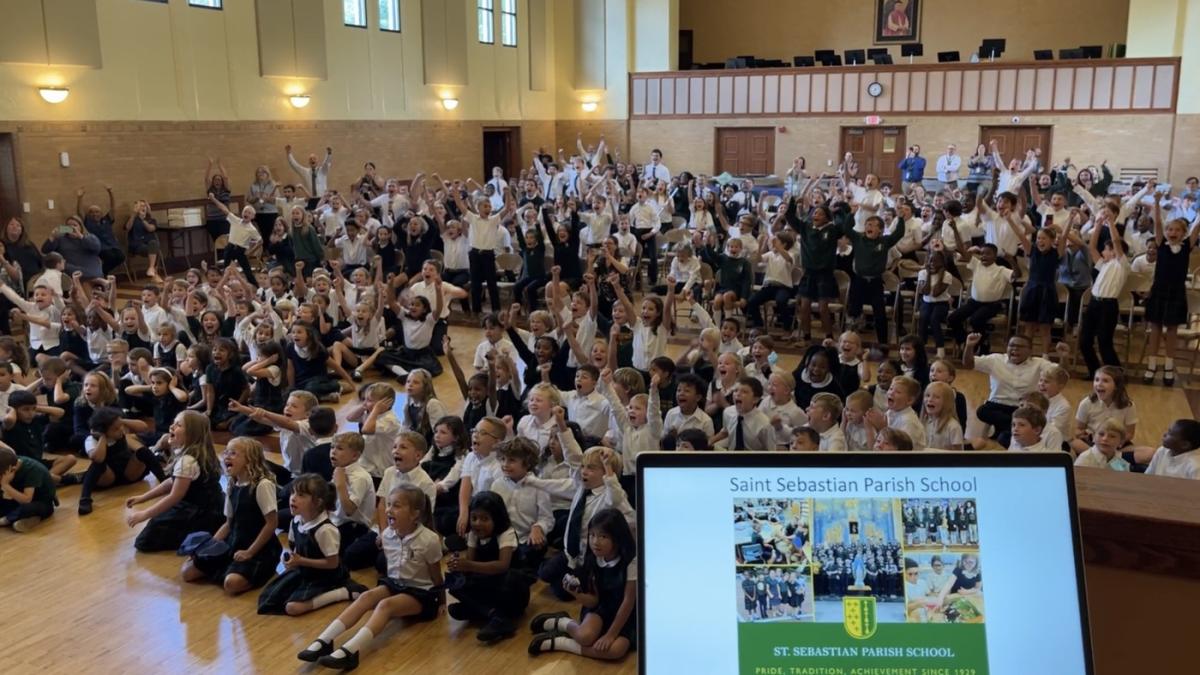 PRESS RELEASE
Date:  September 19, 2023
St. Sebastian Parish School Is Named a National Blue Ribbon School
AKRON, Ohio – 
St. Sebastian Parish School was named a National Blue Ribbon School by the U.S. Department of Education, joining select high-performing schools across the country that are being recognized for exemplary teaching and learning. Every year since 1982, the National Blue Ribbon Schools Program has honored public and private elementary, middle, and high schools for overall academic excellence or progress in closing achievement gaps among student subgroups. St. Sebastian Parish School is proud to be among the list of schools selected for this honor in 2023. 
The application process for the Blue Ribbon Schools program is lengthy, requiring documentation of all aspects of the school, from curriculum and standardized test scores, to auxiliary services and community engagement. St. Sebastian Principal Mr. Anthony Rohr guided the school community through the application effort, fully certain of the school's excellence and happy to now have national recognition for all those who work together for the benefit of the students.
Rohr, who taught at the school for 13 years before being named principal in 2017, says "being named a National Blue Ribbon School is such an honor. This prestigious award is a testament to the hard work and commitment of our students, teachers, staff, parents, and parishioners. It underscores our shared mission of being dedicated to Christ and committed to excellence in education as we collectively work to develop well-rounded young ladies and gentlemen who can think critically." Pastor Fr. John Valencheck, adds, "I am particularly proud of our students, principal, faculty, staff, families and community for rising to the challenge of this honor during such challenging times in education. May their work and dedication serve to benefit others and give glory to Him as they continue in their academic endeavors. Congratulations to St. Sebastian Parish School."
In honor of this very special recognition, the pastor and principal made a special surprise announcement to the students, teachers, and staff, all of whom gathered in the school's social hall to hear the news and then celebrate with the school band playing the St. Sebastian fight song, doughnuts with blue icing, and a spirited viewing of the official announcement video from the U.S. Department of Education. 
Of the 353 schools recognized this year, St. Sebastian Parish School was one of 40 private schools across the country to receive the honor and one of only 19 schools (private or public) chosen in Ohio. For more information, the school's full application and narrative submissions are available by searching online at https://nationalblueribbonschools.ed.gov/awardwinners. 
In addition to the announcement assembly, festivities include a National Blue Ribbon School celebration for students and families on Friday, September 22 at the St. Sebastian Parish School playground. And, on October 2 at 10:00 a.m., Bishop Edward Malesic of the Catholic Diocese of Cleveland will celebrate Mass with the community. Akron Mayor Daniel Horrigan will also offer the school a special proclamation.