The Beringer Center for Early Learning
The St. Sebastian Parish Beringer Center for Early Learning is where our youngest little minds come to learn in a safe, Christ-centered classroom setting. In 2001 and 2002, John and Nancy Beringer made gifts to the St. Sebastian Parish Foundation in memory of Charles and Kathryn Beringer, charter members of St. Sebastian Parish.
These gifts enabled us to transform the convent building into what today is an incredible academic environment for our youngest students. Half day and full day Preschool classes for 3 and 4 year olds, Pre-Kindergarten as well as Kindergarten are now in this one building, along with student tutoring (grades K-8).
The Victor E. Buehrle, Jr. Science Laboratory
In 1998, Victor Buehrle, a long-standing and dedicated parishioner, transformed a wing of the junior high by making a donation to the St. Sebastian Parish Foundation - a donation that continues to make a daily impact on the students at St. Sebastian Parish School. 
The Victor E. Buehrle, Jr. Science Wing was dedicated in 1999, at a ceremony officiated by Bishop Anthony Pilla. 
Our state-of-the-art science lab/ classroom features real life scientific equipment, lab sinks, interactive computer stations, a SMARTboard, plenty of storage, desks and more. 
Zwisler Hall Renovation and Remodel
The original church building of St. Sebastian Parish was built in 1929 as part of a combined church and school building. Today, the "old church" location is known as Monsignor Zwisler Hall, better known as "Z-Hall." After the new church was built in the late 1950s and dedicated in 1960, Zwisler Hall was used for many things, such as the school lunch room, contemporary Mass, spring and winter student concerts, the Sanctuary Society's International Festival, grade school theater performances, spelling bees and more.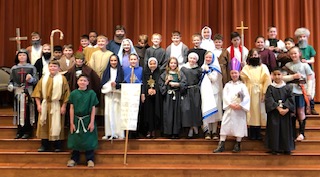 With funding from the St. Sebastian Parish Foundation, from 2002-2005, Zwisler Hall was reimagined and renovated to a beautiful gathering space that included a new entrance and lobby area complete with updated restrooms, a commercial kitchen, an elevated stage area, and an elevator lift to the primary classroom level. The hall continues to be a jewel on our campus, providing a lovely cafeteria for our students, continuing the tradition of hosting school and parish events, and bringing in additional rental revenue.