The St. Sebastian Parish Foundation was established in 1971, and over the past 50 years, the Foundation has provided over $11.8 million in support of our parish, thanks to the generosity of our parishioners, alumni, school families, staff, faculty and friends, along with the interest generated on investments. The St. Sebastian Parish Foundation remains dedicated to providing the needed dollars to support the spiritual, educational, recreational and physical needs of our church and school.
50th Anniversary Celebration
The Foundation hosted a 50th Anniversary Celebration on September 16, 2021 at Monsignor Zwisler Hall. Over 70 parishioners, alumni and friends gathered to celebrate, including current and past Foundation board members. Brenda Pier Beck, President of the Foundation Board of Trustees, provided guests with a brief history of the Foundation and paid tribute to the forward-thinking founders, who created a solid base of financial support for the parish. The Foundation's Director of Development, Kathy Holaday, offered recognition to members of the Arrow Society and the Arrow Society Circle, whose planned gifts and bequests provide a lasting legacy of support for the parish. Guests were treated to a champagne toast offered by board member Patrick O'Neill, along with anniversary cake and a special chocolate arrow to take home.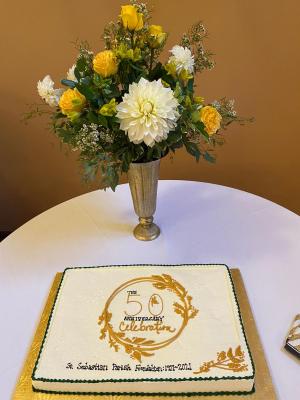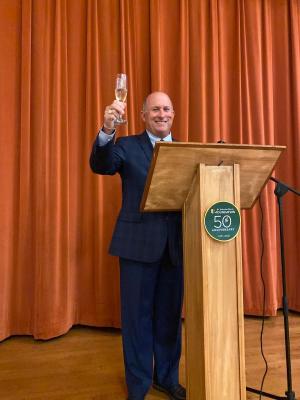 The Foundation's history was featured on beautiful displays in Zwisler Hall, including the impressive list of over 70 named funds, endowments and scholarships held by the Foundation to support specific needs and ministries. The displays also featured the many capital improvement projects funded by the Foundation in the last five decades, including:
• The renovation of the former convent into the Beringer Center for Early Learning
• The construction of the Victor Buehrle, Jr. Science Laboratory
• The complete renovation of Monsignor Zwisler Hall
• The reconstruction of the brick parking lot
• The overhaul of the church organ
• The remodeling of the Helen Barry Hamlin Library
• The $1 million Cornerstone of Our Faith church restoration project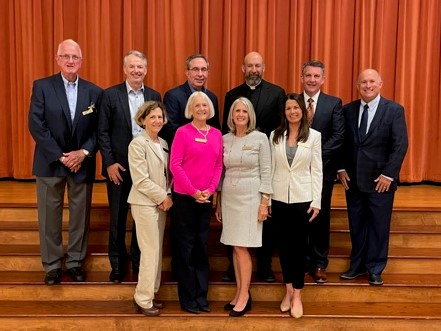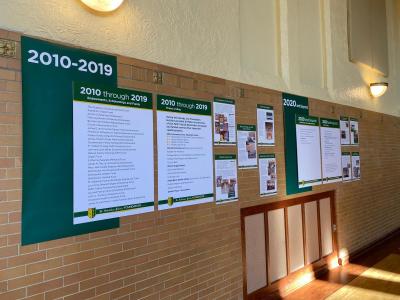 Visit our "Foundation Through the Decades" displays online, featuring information and photos of many Foundation projects completed over the last 5 decades.