The St. Sebastian Parish School Class of 1962

A member of the Class of 1962 identified everyone in the photo. Please contact the Alumni Office with updates/corrections at alumni@stsebastian.org.
Front Row: Valerie Quinlan, Linda Murty, Sue Mumper, Sue Emery, Linda Martone, Jeannette Scala, Mary Freeman, Karen Kane, Carolyn Baughman, Sue Knabe, Mary Hilkert, Monsignor Zwisler, Patty Angeletti, Ginny Bader, Diane Bender, Carol Ann Fyotek, Kathy Smith, Martha McKinney, Sue Tremaine, Laura Wagner, Michelle Reymann, Mary Kay Klein, Peggy O'Neil.
Second Row: Nancy Bognar, Pam O'Brien, Rosemay Hamad, Mary Lou Farris, Bonnie Parker, Nancy Nelson, Cynthia Marshall, Joy Wiesheier, Suzanne Parker, Martha Clements, Peg Riccardi, Nancy Toddy, Bobbie Hall, Kathy Reis, Sandy Parker, Marianne Lipps, Jean Burgoon, Christine Doyle, Carol Samels, Cathy Miller, Jackie Wilkshire, Debbie Attalla, Gail LaCroix.
Third Row: Bill Kingsley, John Finn, John Schnur, Dave Ferrante, Dan Dolly, Pat Carr, Ned Spalding, Tom Hummel, John Zachardy, Lee Fox, Tom Bachmann, Mike Trifero, Ron Coleman, Bill Reymann, Bob Hatton, Ed Helwig, Tim Miller, Kevin Krill, Bob Wolf, Butch Bandrowsky, Dave Griggy, Joe Maglione, Nick Kozma, Paul Susinski, Ron Ashmann, Mary Carney, Agnes Fields.
Top Row: Robert Yanko, Kenny Butler, Mark McCarty, Mike Thomann, Terry Ajamie, Bob Pacenta, Dave Cavanaugh, Ned Seiss, John Jewell, Tim McDonald, Jim Dettling, Chris Lustic, Bill Hurlburt, Tom Farr, Larry Minich, Dave Osborne, George Hohas, Bob Rozuk, Rick Merzwiler, Tim Fortney.
The St. Sebastian Parish School Class of 1930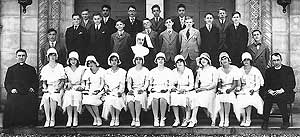 The first graduating class from St. Sebastian Parish School.