Memorial & Honorary Gifts
Many families connected to St. Sebastian Parish ask for gifts to be made to the Foundation in lieu of flowers after a loved one has passed away. The Foundation is also the recipient of gifts in honor of wedding anniversaries and other milestone occasions. Any gift you make can be made in the name of someone or something special to your heart. The Foundation will send a recognition letter to the person being honored or the family of the person being memorialized so that they know a gift has been made. The gift amount will not appear unless otherwise indicated by the donor. 
Monetary Gifts
Most memorial or honorary gifts are made by cash, check, or credit card. These gifts may be submitted online via PayPal or mailed to the Foundation along with a Donation Form or a simple note indicating:
Name of person being honored or memorialized
Address to which the recognition letter should be mailed
Event being observed (i.e. death, birthday, anniversary, holiday, etc.)
If you would like to designate your gift to a fund, endowment, or scholarship, please indicate the name of the fund, scholarship or endowment. If no designation is stated, the gift will be placed in the Foundation's Unrestricted Fund to support the parish's areas of greatest need.
Checks may be made payable to: St. Sebastian Parish Foundation. Please send the information and your payment to:
St. Sebastian Parish Foundation
476 Mull Avenue
Akron, OH  44320
Commemorative Bricks & Benches
Bricks: Just outside the doors of Zwisler Hall, St. Sebastian has a beautiful red brick plaza featuring commemorative bricks. These special bricks also make perfect gifts to mark a birth, baptism, First Communion, Confirmation, graduation, wedding, anniversary, or anything important in your life. Bricks are just $100 and allow 3 lines with 14 characters per line.
Benches: Commemorative benches are a beautiful and lasting way to celebrate the life, service or special occasions of loved ones. Benches are $2,000 each, and each bench includes an individualized name plaque located in the center of the bench's back support.  
Arrow Society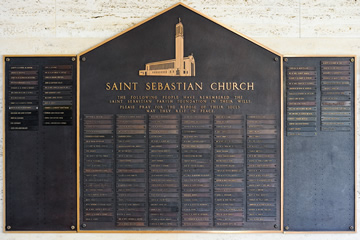 You may also leave a permanent and lasting memorial with a planned gift such as naming the Foundation as a beneficiary of your will, estate, or life insurance policy. After planned gifts are received, a cast bronze name plate is added to this Arrow Society remembrance plaque. Located on the west wall of the church narthex, these name plates offer a truly timeless way for your family to be memorialized.
Thank you in advance for allowing St. Sebastian Parish Foundation to help you give a gift that makes a real difference in our community. Please contact the Development Director at 330-836-2233 x113 or foundation@stsebastian.org with any questions.