During the 2021/2022 school year, St. Sebastian is coordinating all athletics registrations and payments (including grade school and high school CYO teams, DD Soccer teams, and the Soccer Stars program) through an online system operated by SportsPilot.
To set up a SportsPilot Family Account, add family members, register players and coaches for athletics, and pay registration fees follow the link below.
Additionally, we have prepared a Registration Guide to answer questions and guide you through the new process. View our Registration Guide to answer questions and guide you through the new process. Please email the Registrar at stsebastiansportsregistrar@gmail.com if you have any questions.
Sports Physicals
The St. Sebastian Athletic Booster Club presents....Physicals Night
Wednesday, May 25th, 5:30PM - 7:30PM at Byrider Hall (school gym)
Sportswear For Sale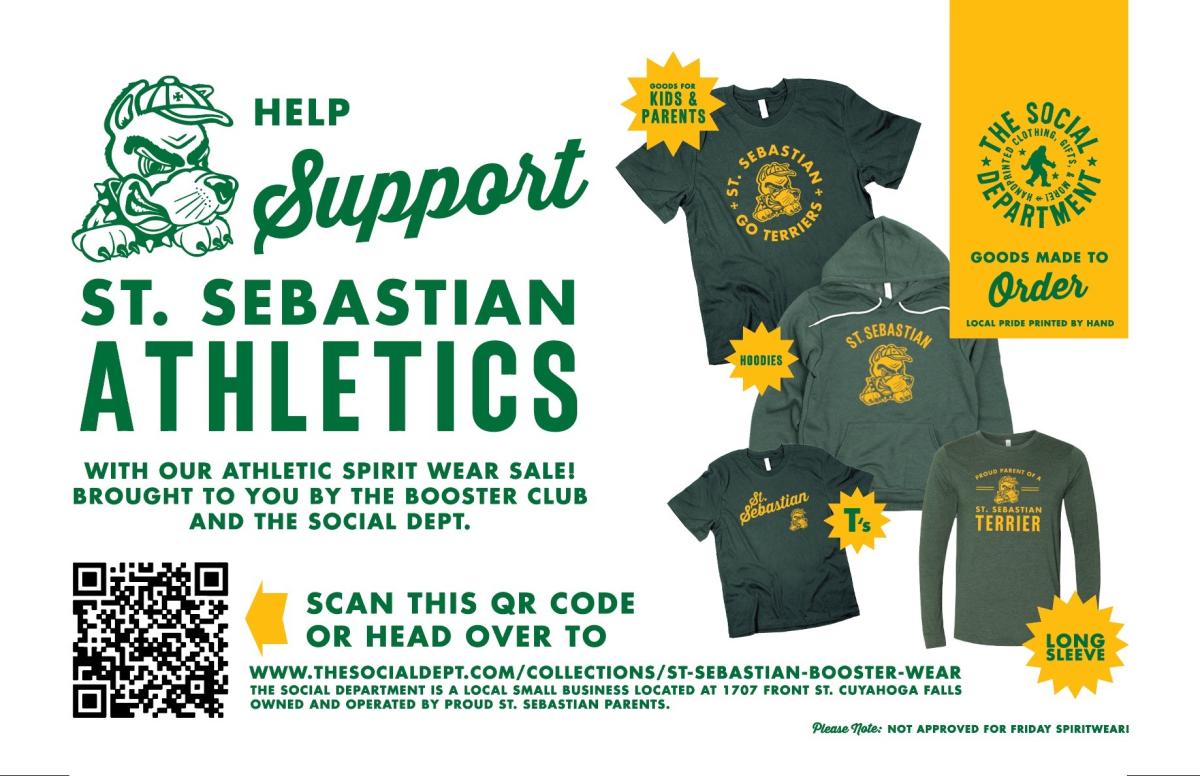 Spring Soccer Sign-Ups
·       For details about the upcoming season and registration deadlines, click HERE.
·       For a general description of our programs, click HERE.  
Registration deadline for STARS and DD Soccer programs is Sunday, April 3rd.
All registrations and payments must be made online through the SportsPilot system: https://reg.sportspilot.com/106646/login.
STARS Soccer - Pre-K and Kindergarten students (must be 4 years old by April 23, 2022)
DD Soccer - 1st and 2nd grade students.
Spring Sports
Registration is open for spring Athletics! St. Sebastian is offering boys and girls track and boys volleyball for athletes in grades 3-8; DD Soccer for athletes in grades 1-2; and Soccer Stars for athletes in Pre-K and K. Our registration portal will be open through March, with CYO practices beginning in March and DD Soccer/Soccer Stars beginning in April. A link to SportsPilot, our registration portal, can be found on the Athletics website at https://www.stsebastian.org/school/athletics. Register today!
---
Recruiting Update
St. Sebastian Parish is currently searching for talented folks for key roles in our organization including:
Athletic Director
Booster Club Treasurer
Sports Commissioners
If you have any interest please contact Steve Bordenkircher at sabordenkircher@gmail.com
2021 - 2022 Team Fees
CYO Grade School Sports
1 sport, 1 player: $75
Tackle Football 4th-7th grade: $150 per player which includes the $75 registration fee
Tackle Football 8th grade: $190 per player which includes the $75 registration fee
Please note: For the 2021/2022 school year, we are bringing back our Family Max. discount, eliminating CYO participating fees beyond the family CYO fee paid during the school year equalling $300 (ie., fees for four CYO sports for a single family). If you are interested in utilizing the Family Max discount, please contact the St. Sebastian Sports Registrar at StSebastianSportsRegistrar@gmail.com
DD Soccer and Soccer Stars
DD Soccer (Grades 1-2): $30 per player per session
Soccer Stars (preschool-K): $20 per player per session
Family Max does not apply
CYO Highschool
1 sport, 1 player: $90
 Family Max does apply
---
Booster Club
Officers
Sports Commissioners
---
Coaching
CYO Coaching Credentials: If you would like to coach or assist with any CYO athletic event, you need to be certified. Please consider going through the process even if you have no immediate plans to coach or assist; you cannot help without these credentials. Contact the Athletic Director for details. We will post dates as they become available.